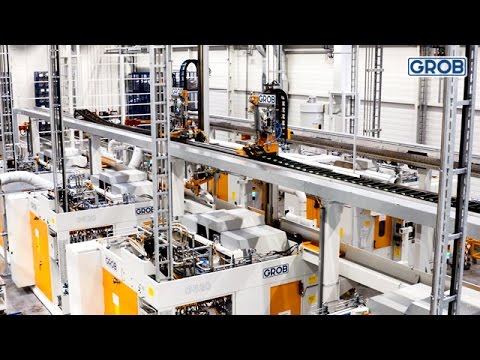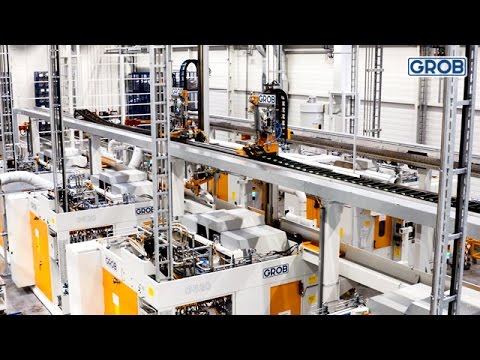 GROB Automation Systems for machining
We present the automation solutions offered by the largest European manufacturer of 5-axis machining centers, GROB.
For decades, small, medium and large series production machine tool customers have relied on GROB automation technology. This experience is directly reflected in the automation solutions that GROB offers today, making it a solid partner, from solutions with pallets or workpiece storage to highly flexible turnkey production lines.
GROB's automation technology enables flexible adaptation to capacities and ensures pallet and/or workpiece handling that is perfectly tailored to your requirements.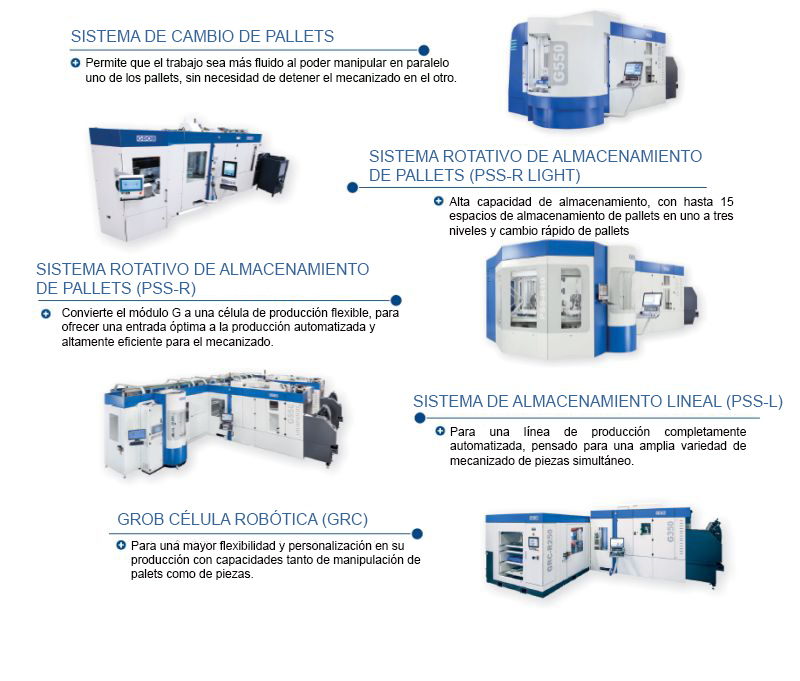 PALLET CHANGER
 The advantages offered by the pallet changer:
Preparation or loading and unloading of the pieces in the preparation station of the machine in parallel to the production
Pallet change system compactly integrated into the machine
Best accessibility to swivel and lockable setup station
Quick exchange of pallets between the work area and the preparation station
Pallet support control system already included in the pallet change system
Wide opening assembly station doors with crane loading option
GROB PSS-R AUTOMATION
The many customer benefits of the PSS-R include a complete single-source solution in a standardized design, economical production with higher utilization of machine capacity, and an ability to produce in unmanned or light-staffed shifts. . It also provides an optimized view of the work area and towards the pallet storage positions, parallel loading and unloading of pallets during the machining operation.
In addition, the PSS-R offers a storage solution for a small initial investment and can be easily retrofitted to existing machines.
AUTOMATION GROB PSS-R LIGHT
The GROB rotary pallet storage system expands the G module into a flexible production cell and offers the ideal entry into highly efficient and automated production.
Characteristics:
Variants with up to 15 pallet storage spaces on one to three levels
Easy access setup station located next to the machine control panel
Fast pallet change when using two pallets thanks to an innovative storage and retrieval device
Visualization and organization of production orders through flexible control software
State-of-the-art control software with 19-inch touch screen panel
Its advantages:  
Complete solution from a single source with a uniform design
Economical production through increased machine utilization
Possibility of production in unmanned shifts or with few personnel
Best view of work area and pallet storage locations
Parallel loading and unloading of pallets during machining in progress
High storage density with a small footprint
Pallet storage solution with low initial investment
Easy adaptation to existing machines
GROB GRC AUTOMATION
GROB PSS-L AUTOMATION
The GRC offers a complete solution from a single source, with a uniform design and coordinated interfaces. This solution is capable of handling parts and pallets, allowing maximum flexibility.
The GRC's compact design has a shared base frame that allows for quick and easy installation; standardized software allows the cell to be commissioned quickly. The innovative feeding system with parts drawers allows production without an operator for a longer time. In addition, an automatic clamping device and part gripper change is available for different clamping devices and part types.
The connection with GROB's production control software, GROB  4  Automation, enables flexible planning and management of work orders, resulting in improved production sequences. The GROB robot cell can also be configured with a variety of modules, depending on customer requirements, such as deburring, washing and measuring, all in the same cell. The GRC can also be expanded to power multiple machining centers.
The linear pallet storage system is a GROB development that complements the product range with a highly automated and flexible manufacturing line for a wide variety of part machining.
Characteristics:
Up to five machines can be connected to one system Expandable modular system consisting of at least one basic module System can be flexibly expanded up to four additional expansion modules and configuration stations Easy-access assembly station with crane-carrying capacity Visualization and organization of production orders with flexible production control software
For machines with and without pallet changer Highly dynamic loading unit with optimized control system to reduce pallet change time
Configuration flexibility according to your needs.
The complete solution forms a single source in a standardized design and an interface that optimally fits the machine.
Profitable production thanks to increased utilization of machinery.
It allows a longer and unmanned production period.
Allows optimal access to the machine work area during automation, eg for manual loading or setup work.
Large storage capacity with a small footprint Low investment pallet storage solution.
GROB MANUFACTURING LINE