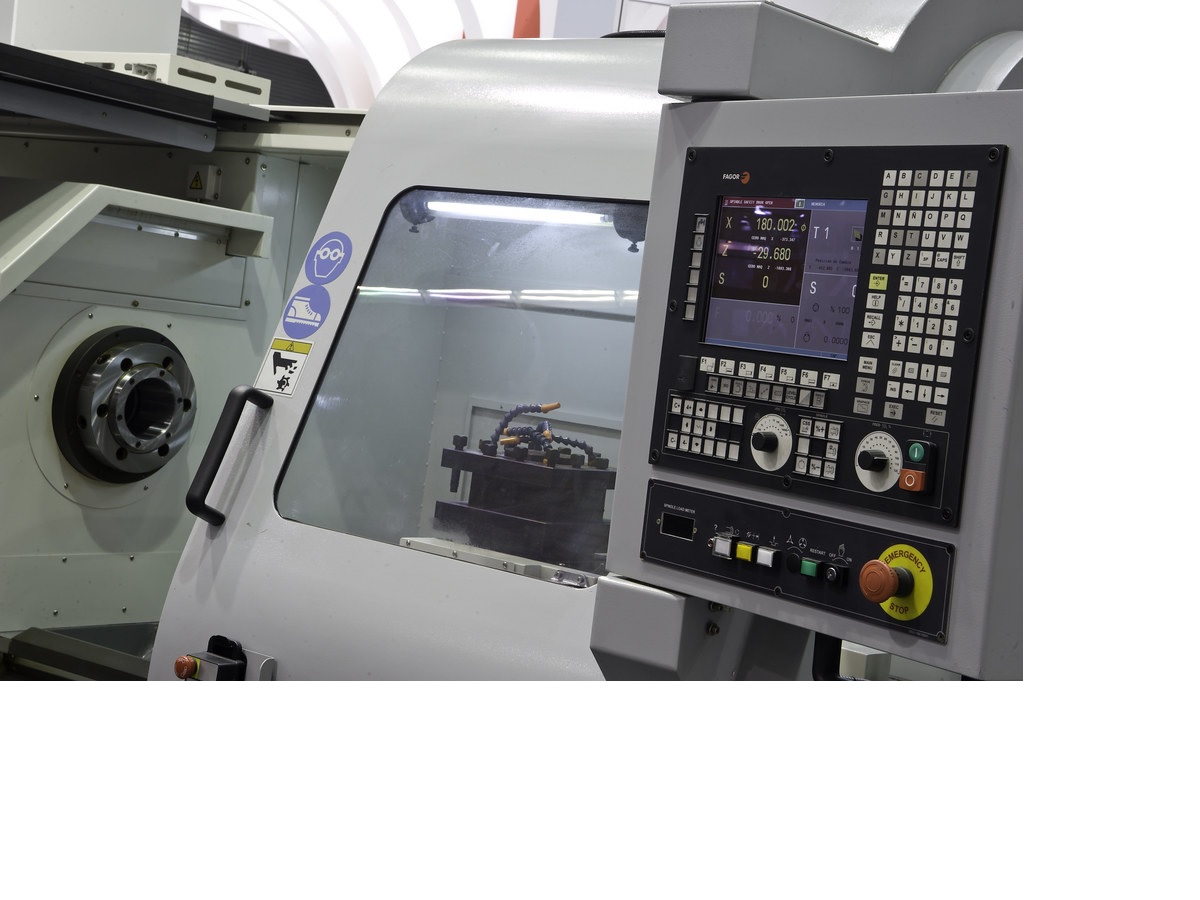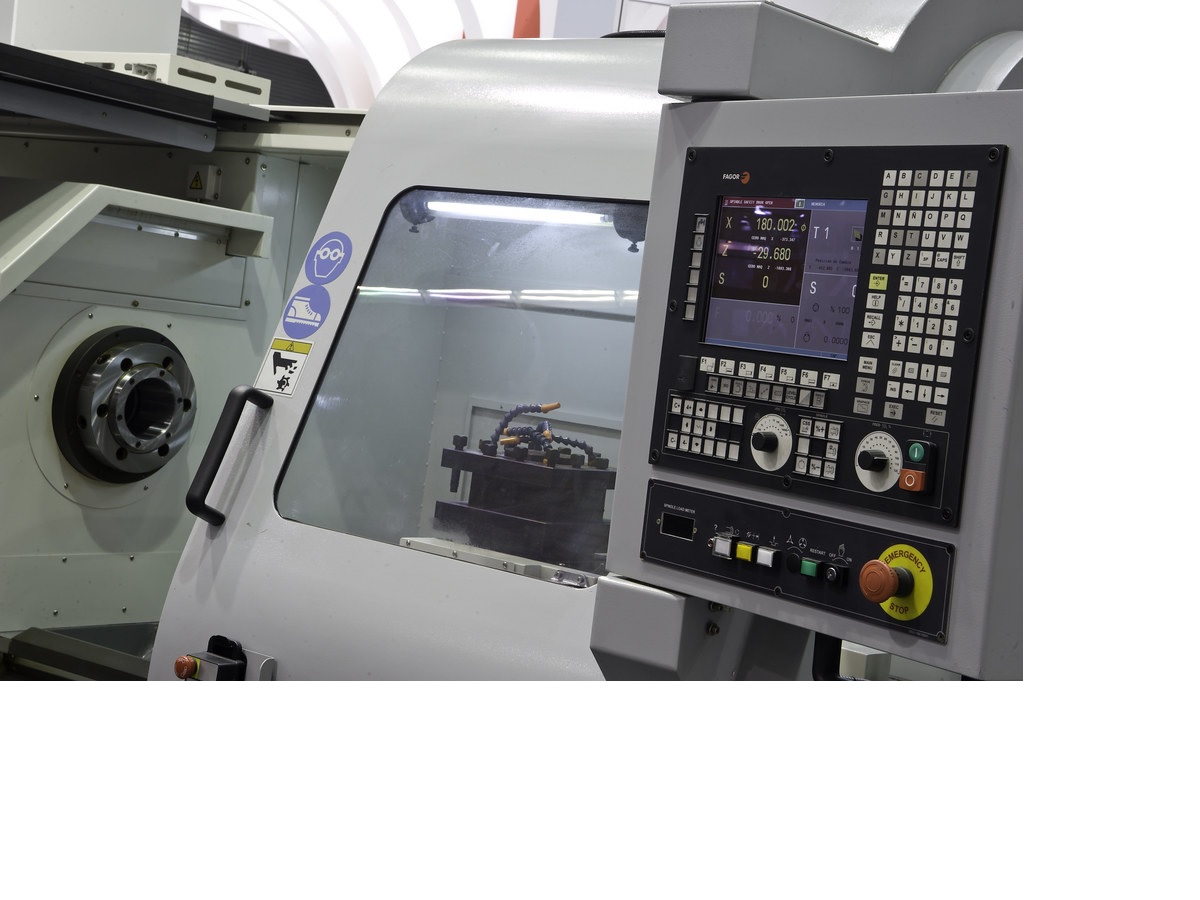 The inclined bed CNC lathe is a type of lathe by computerized numerical control that is used for the machining of revolution parts. This type of machine is one of the most advanced in the metalworking industry, as it allows the automation of processes and requires minimal human intervention.
What are CNC lathes?
In the CNC lathes parts of revolution can be machined through a software by computer that uses alphanumeric data. strong>. These machines follow the X, Y or Z planes and are used to manufacture series parts or designs that require high precision. It is the machine's integrated computer that controls the machining operations that must be performed on the part.
In order to be able to machine on this type of machine tool, it is necessary to pre-design the piece to be worked on. This is done on an external computer using CAD and CAM programs (respectively, computer design and manufacturing). Once the design of the part is made, it is translated into alphanumeric language and loaded into the computer of the inclined bed CNC lathe. The machine translates the design and adjusts the machining parameters necessary for production.
Benefits of CNC lathes
One of the great advantages of CNC lathes, regardless of the type of lathe they are, is that they can perform operations in a single process. In other words, if the same piece requires turning and drilling, the CNC lathe can execute both operations without the need to redirect the piece. Generally, and depending on the lathe model, the machine itself makes the changes between the cutting tools and positions the part according to the machining needs. This is a benefit for production because, otherwise, machine tools would have to be used separately and the same part would have to go through different machines such as lathes, drills, milling machines, etc.</p >
In addition, CNC lathes can perform operations that are generally performed using other types of lathes such as copying, parallel, revolver, automatic, vertical, etc. As CNC lathes move simultaneously on two axes in an interleaved manner, it is possible to machine conical or spherical shaped parts.
Finally, the tool headstock of this type of lathe can house up to 20 different cutting tools that perform a rotary movement and are placed in the main headstock, depending of the type of turning.
What is the slant-bed CNC lathe?
Thanks to advances in technology, today it is possible to findthree different types of lathes that work by computerized numerical control; one of them is the inclined bed CNC lathe. This type of machine tool is provided, as its name suggests, with a one-piece inclined bed. This allows the machine to have greater rigidity, precision and durability, regardless of the type of machining you perform on it: turning, drilling, milling , etc.
The movements made by the cutting tool are controlled through a very advanced digital system that allows the tool to machine as it should.
If you wonder what this type of lathe is used for in the metalworking industry, you should know that they are the best allies for the manufacture of fittings. Fittings are metal parts widely used in industry, as they are used to join tubes; They can come with or without threads. Almost all the industries that metalworking supplies will use fittings; hence the CNC inclined lathes are the most used by the manufacturers of these parts.
Slant bed CNC lathes tend to have smaller dimensions than traditional production lathes. The bench, which in English is called bed (bed), has an inclination angle that varies between 35 and 45 degrees. As you can see, this type of machine tool is ideal for series production (identical parts). They require minimal intervention from the operator and some models include a bar power supply. This allows the same operator to attend to different CNC machine tools at the same time.
Other types of CNC lathes
In addition to slant bed lathes, it is also possible to find flat bed lathes and vertical lathes that work with CNC technology. Flat-bed lathes are also called shop-type lathes and are used for machining large-sized pieces. Unlike slant bed CNC lathes, flat bed lathes follow a more moderate production rate (very efficient, even though they are not as fast as slant bed lathes). Thanks to their horizontal structure, they can have great stability and rigidity when carrying out production processes.
Vertical CNC lathes, meanwhile, are made up of square guides that can mark the cuts on the part. As they have a vertical orientation, this type of lathe allows the machining of large parts.