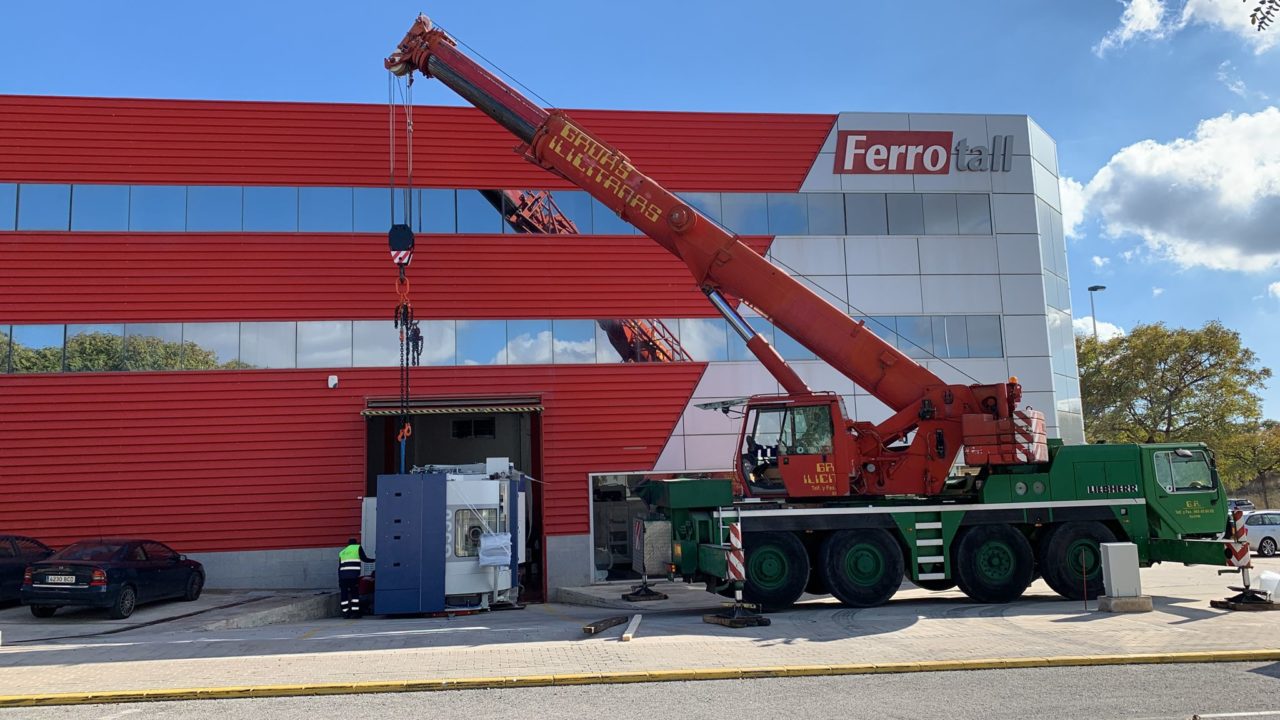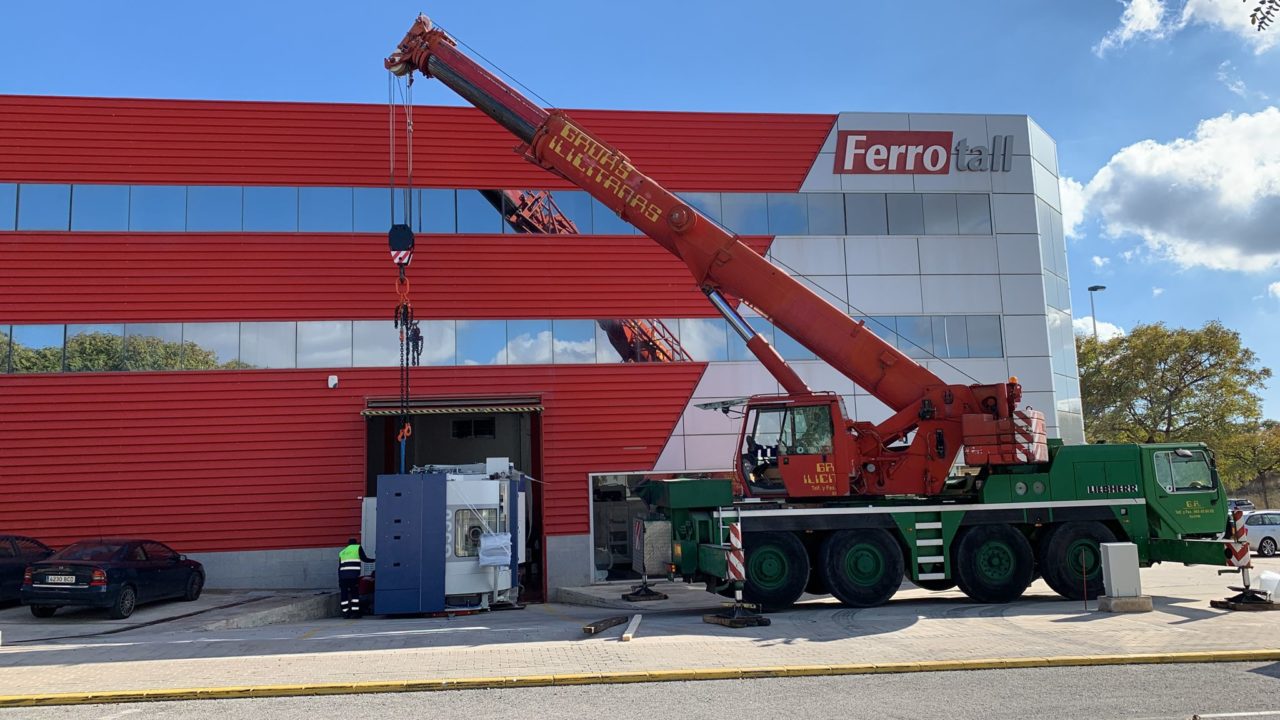 Directly from 
Mindelheim
 (Germany) we received yesterday at our headquarters in Elche, a new G-series center from the manufacturer of 5-axis machining centers GROB.
Movement day yesterday at the Ferrotall headquarters , where we received a new machine to complete our machining machinery showroom .
An unloading device made up of a 24-ton self-propelled hydraulic crane, a self-loading truck, and the intervention of 3 of our Ferromaster technicians, the Ferrotall group's own technical service , were necessary to place the machine in the showroom.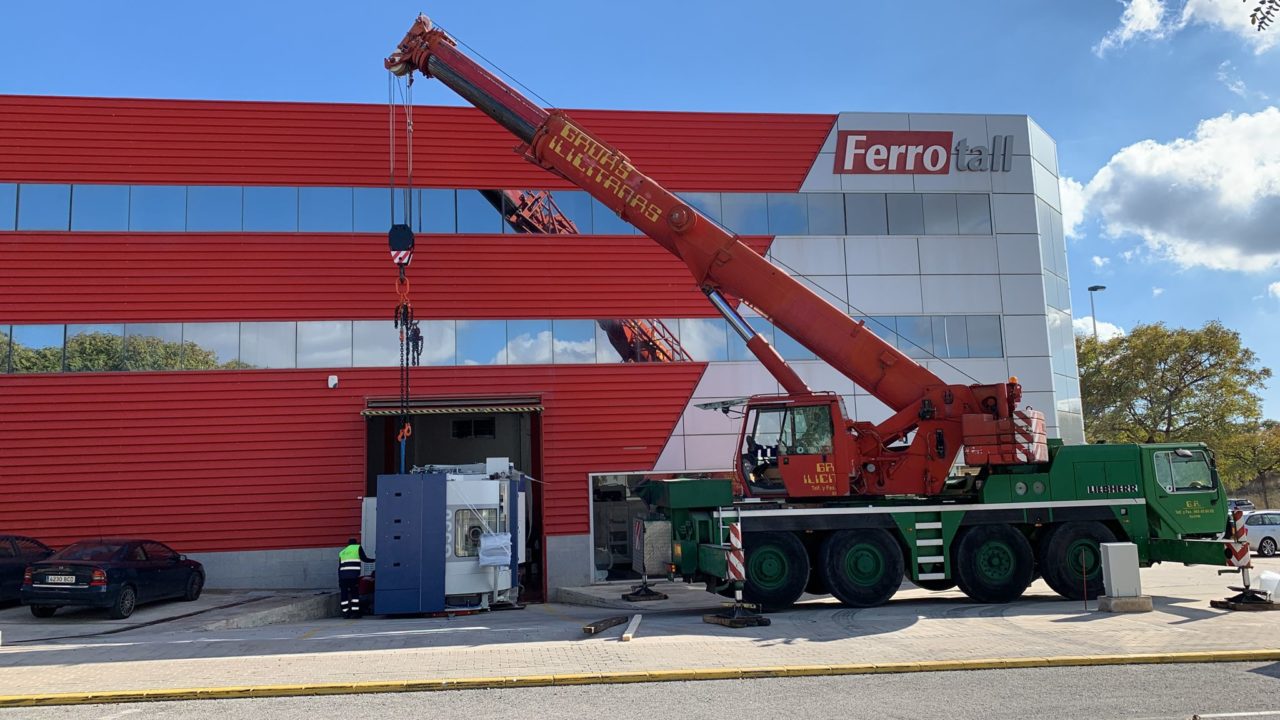 GROB's medium model joins the cnc machinery showroom
GROB's G series of 5-axis machining centers is made up of the G150 models (currently available in our showroom) G350, G550 and G750 .
After having had the G550, G350 models and the model we used for our Open House at the Galdakano and Metalmadrid 2021 headquarters . Now the G550 model joins our showroom . Thus incorporating two models of 5-axis machining center to the machines in stock that we have for immediate delivery.
GROB G550 5-axis machining center
The G550 machining center guarantees the best milling technology and extremely stable and precise cutting of virtually all materials. Process reliability thanks to the efficiency and precision offered by GROB together with the durability of its components.
A unique machine concept
The G550 model , like the rest of the GROB G-series models, is manufactured under the same machine concept. A horizontal spindle ( tunnel concept ), which allows a greater travel in the Z axis and an optimal chip fall.
The tunnel concept allows the largest possible component to be pivoted and machined within the work area without collision, even with the longest tools.
large turning range
Three linear and two rotary axes allow 5-sided machining and simultaneous 5-axis interpolation with a rotation range of 230 degrees on axis A' and 360 degrees on axis B'
maximum stability
The unique arrangement of the three linear axes results in a small distance between the guides and the working point (TCP) and a particularly high rigidity of the machine.
The G550 machining center guarantees the best milling technology and extremely stable and precise machining of almost all materials, making it a perfect solution for industries such as automotive , renewable energy , mechanical engineering , aerospace , manufacturing of tools and moulds .